Regularly through the year Rivers of Mercy and Santa Fe Baptist Mission join together to reach the children in the area. Many of the children live in poverty. We hosted a special Children's Day on April 30th. Children from the community spent the day with us, had a lot of fun, were taught from Bible, and given the Gospel.
Missionary Leo Rivas teaching the children.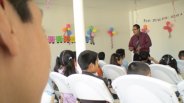 Group Pictures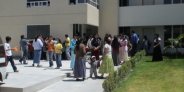 Thanks for your support and concern for the children.

With the current economic situation in the U.S. support has dropped. Children still need to eat, be clothed, and hear the Gospel. Consider increasing your giving. Contact us for a presentation in your church. Send All Offerings to: 
Santa Fe Baptist Church
12902 6th Street
Santa Fe, Texas 77563
Put ROM or Rivers Of Mercy in the Memo. Thanks.